Frequently Asked Questions - Fishing
Prepare for a great fishing adventure!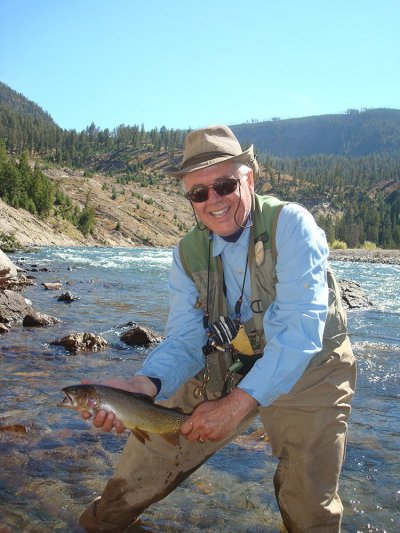 What does a day trip consist of?
We generally meet you at the designated trailhead by 8 a.m., ride by horseback 1–2 hours, away from the crowds and other fishermen to the part of the stream that you will want to fish. We fish throughout the day, packing a hearty sack lunch, soft drinks, and bottled water and return in the evening to get back to the trailhead by about 7 p.m. A great day!

What should I bring on a fly fishing adventure in Yellowstone?
Along with your fishing gear, Be sure to bring a rain jacket, sunscreen, and mosquito repellent. A hat and/or sunglasses will be valuable. You should wear sturdy, closed-toe shoes or boots and long pants for the horse ride. You may change into shorts and sandals at the stream if you like.

What does Skyline Guest Ranch provide?
We provide your horse and a guide for your group. (Two guides if there are more than 5 in the group.) Also, we provide a hearty sack lunch (usually consisting of a meat and cheese sandwich, homemade cookies, fresh fruit, chips, candy, nuts or jerky), soft drinks and bottled water.

What if I've never ridden a horse?
No worries! Our horses know their job and do it well. With just a few simple instructions, you will be feeling in control and able to enjoy your ride.

What if I've never fly fished?
Then it's a great time to learn this exciting yet relaxing skill! Your guide can help you get the basics, give you time to practice, give you pointers to improve and help you enjoy your new experience.


Where do I get a Yellowstone fishing license and how much does it cost?
You may buy your fishing license at any of the entrances to Yellowstone National Park and at any ranger station within the park. The cost for a 7-day fishing license is $25.00

How much do I tip my guide?
The amount of the tip that you give your guide is completely up to you. An average is between $70 to $100 per day. Of course if for any reason you don't feel you got the service you expected, you are not at all obligated to tip and please let us know how we could serve you better.

Is there an age limit to ride horses or to go fishing?
Children need to be big enough and brave enough to ride in their own saddle on their own horse. Most 8-year-olds are more than ready to ride.